Experienced Vocal Coach, Brisbane
Enhance Your Voice | Enhance Your Relationships
Connect With Your Audience
As a performer and professional voice user, voice is an integral part of your personality and performance. A vocal coach can help you to develop your voice to its full potential so your presentations and performances make an impact.
Jenny's experience in performing combined with her qualifications as a Speech Pathologist give her the edge as a vocal coach.  She understands what motivates you and what you want to achieve with your voice and she has advanced voice training as a Certified Practising Speech Pathologist.  Jenny is well able to help you reach your goals.
Who Is Vocal Coaching For?
Actors, teachers, motivational speakers and auctioneers – you can learn techniques to improve voice projection, clarity and endurance.
Singers, actors, television and radio announcers – you can improve the richness and resonant quality of your voice.
Call centre operators, sports coaches, lawyers, counsellors, gym instructors and other voice users – you can have an enduring voice that functions well at work.
Volunteers for kids sports teams, classrooms, local youth groups, singers in a weekly choir – your voice is an important tool to stay involved in your local community.
Contact Jenny To Discuss Your Vocal Needs
Vocal coaching can help you develop your voice to its full potential
A healthy voice allows you to engage with family, peers, colleagues and friends. Many of us use our voices intensively. At Bayside Voice Centre, we can teach you tips and techniques that will allow you to meet these demands without causing vocal fatigue, strain or damage. Vocal coaching gives you a toolkit of strategies and healthy vocal habits that support endurance and enhanced performance.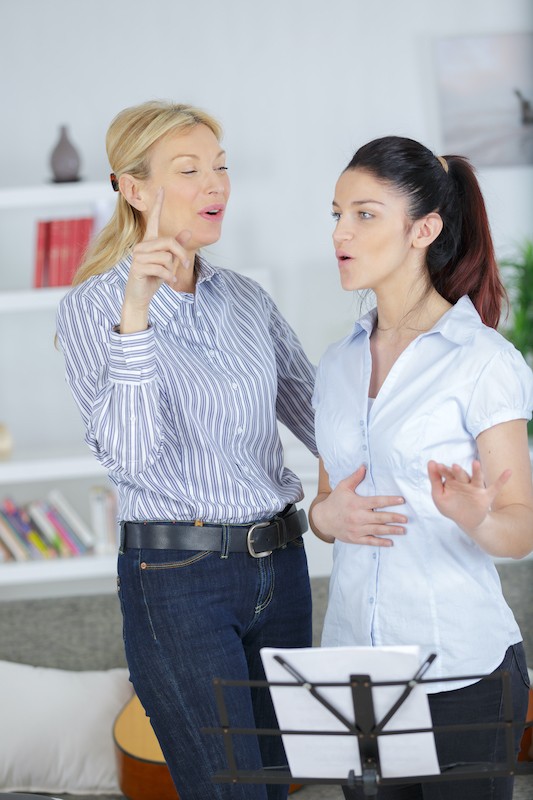 A Speech Pathologist understands the anatomy of the head, neck and the respiratory system required for voice. Coaching at Bayside Voice Centre is based on evidence based speech therapy techniques to support your voice safely.
Jenny is trained in the Accent Breathing Method, Resonant Voice Training, Voicecraft, Adventures in Voice for Kids and has attended Estill Voice Training. Her special interest in vocal coaching combined with her acting experience makes her the ideal coach for you to realise the full potential of your voice.
I was a bit nervous about going to see a speech pathologist, unsure about the vocal exercises I would be given.  But Jenny put me at ease straight away with her professionalism and friendly nature. She did all the exercises with me so it wasn't at all awkward.  I am so much more aware of my voice and how I am using it.  The vocal coaching has given me strategies to find that powerful voice when I need it.
Protect And Optimise Your Voice
Contact Jenny Matthews Today