Meet Jenny Matthews
Enhance Your Voice | Enhance Your Relationships
Trust Your Voice To A Certified Practising Speech Pathologist
Speech Therapy To Optimise Your Voice
Welcome to Bayside Voice Centre and meet Jenny Matthews, a Certified Practising Speech Pathologist in Brisbane.  Jenny has a passion for helping you to develop and attain a voice that is confident, flexible and able to withstand the demands of your daily activities.
Jenny's clinic, Bayside Voice Centre, provides private speech therapy for those with a diagnosed vocal condition and quality voice education for organisations and individuals in the Bayside and east-Brisbane region.
Jenny is passionate about helping professional voice users and individuals who use their voice in a volunteering capacity, eg. sports coaches, to take care of their voice to prevent voice problems, thereby allowing them to have a voice that is strong, clear and work ready.
Can any speech pathologist help your voice?
All speech pathologists receive some training in voice along with all the other areas that speech pathologists generally help their clients with.  For example, some have a special interest in language development in children.
To provide the best care for clients with voice problems, or people who place a higher demand on their voice because of their occupation, a private speech pathologist who has further education in the area of voice will provide the best voice training and speech therapy for diagnosed vocal conditions.
Training and Certification
Jenny has undertaken voice-specific training over the past 7 years.  Her training includes:
Voicecraft
Accent Method – A focus on correct breathing for optimal voice.
Resonant Voice Therapy – This involves techniques to produce voice with increased vibrations in the midfacial region.
Adventures in Voice for Kids – Program designed specifically for children, training them in how to produce normal and loud voice safely.
Estill Voice Training – Voice training to empower your voice, for speakers and singers.
PhoRTE – Evidence based program specifically designed for seniors with presbyphonia.  Benefits may include reduced

breathiness, clearer voice quality and increased volume.

Respiratory Muscle Training – This can be effective for a number of client groups including those with Vocal Fold Dysfunction (VCD/ PVCD) , CPOD, and Neurological disorders such as Parkinson's Disease.   Training aims to strengthen the muscles used for breathing and speaking as well as swallowing and coughing.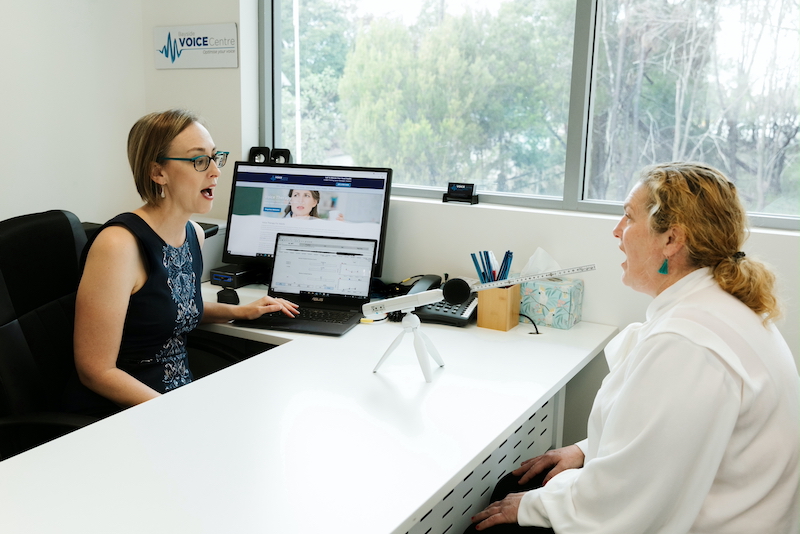 Contact Jenny To Discuss Your Vocal Needs
Learn how to protect and optimise your voice
Qualifications and Memberships
Before graduating as a speech pathologist (University Of Queensland, 1999), Jenny had a background in acting and speech and drama.  She is familiar with the demands professional voice users make of their voice and has the experience and understanding to help you achieve your voice goals in order to connect with the people that matter in your life.
Jenny is a registered speech therapy provider for Medicare, WorkCover, and the DVA (Department of Veteran Affairs).
As a Certified Practising Speech Pathologist, Jenny's private speech therapy practise in Brisbane,  provides all clients, young and old, with the opportunity to receive professional voice training or speech therapy to develop the voice they need for their chosen profession or pursuit of hobbies.
Jenny holds professional memberships with Speech Pathology Australia, the Australian Voice Association and the Laryngology Society of Australasia.
Your Next Step To A More Confident, Enduring Voice
If you have a diagnosed vocal condition or you are aware of changes in your voice, maybe the quality of your voice is affecting your ability to carry out your day-to-day activities, there are things that you can do to make a difference and optimise your voice.
Initial Speech Assessment
To make an appointment with Jenny a referral is not necessary, however having a referral from your GP or ENT/Laryngologist, will enable you to be covered by Medicare Benefits.  Otherwise, you can check with your private health insurance provider for your available coverage.
If you are concerned about the quality of your voice, an initial assessment will help to identify the strengths and weaknesses in your voice.  Your initial consultation and voice assessment will involve some 'measurements' and analysis of your voice to determine the quality and vocal range of your voice. This is pain free and Jenny's personable nature makes it a pleasant experience.  From this assessment, Jenny will be able to provide a report for a referring practitioner and a program to help you achieve the voice you desire to have.
Individualised Vocal Program
From the inital voice assessment, Jenny will work out an individualised program to target your specific voice needs.  This will involve voice sessions to learn vocal techniques and exercises to protect and strengthen your voice.
Improvements are often noticed within 2-4 weeks and as you continue to progress with the exercises your voice will gain strength, clarity and endurance to meet the demands of your profession.
Online or In Person
Appointments can be made for private speech therapy sessions at Bayside Voice Centre, through Telehealth or Jenny can travel to you in Brisbane's eastern suburbs (a small travel fee may apply).  For onsite workplace training for organisations or schools in the Greater Brisbane area contact Jenny to discuss available options.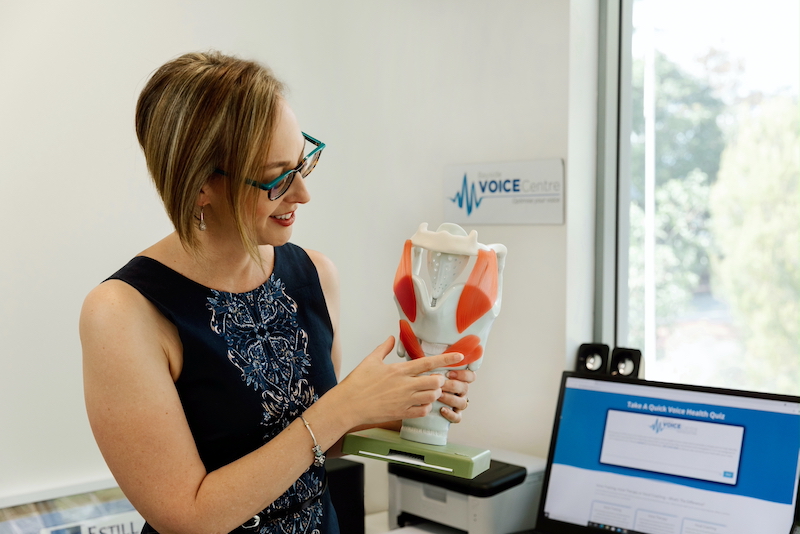 Take A Quick Voice Health Quiz

To hear a brief overview from Jenny about what she does and how she can help you achieve the voice you desire, please watch the video below.  If you have any questions or are unsure about seeing a speech pathologist, please call on (07) 3193 5436 or email.
If you are referring a patient and would like to hear in more detail from Jenny about what she does and how she can support your patients, please watch the video below.  If you have any questions, please call on (07) 3193 5436 or email.

Published by Feminessence Magazine
KickAss Radio Interview with Jo Sainsbury