Voice Training For Your Workplace
Enhance Your Voice | Enhance Your Workplace Relationships
Provide A Safe Work Environment
At Bayside Voice Centre we provide voice training workshops to help employees avoid preventable voice issues and give them strategies to have an effective voice.  Loss of voice or changes to quality, volume and vocal strength can adversely impact productivity and morale in the workplace. When speaking is an integral part of your work, your voice needs to perform at its peak.  All voice training workshops are presented by a Certified Practising Speech Pathologist. 
Voice Training Workshop Inclusions
Voice training is an important part of voice management. At Bayside Voice Centre targeted workshops provide:
an understanding of the anatomy of the voice and how it is produced
information about good vocal habits to protect the voice
an awareness of signs and symptoms for various physical, emotional and neurological disorders
workplace screening to identify 'at risk' staff
practical workshops at beginner and advanced levels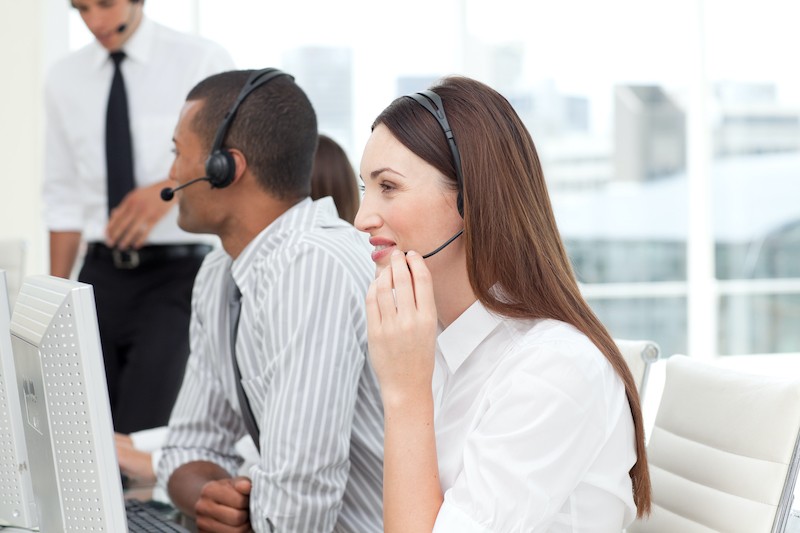 Our voice workshops are engaging, informative and practical sessions that focus on developing your best possible voice.  Voice training workshops are tailored to your workplace to meet the specific needs of your employees.  They are designed to provide universal controls that support you as an employer, to satisfy Workplace Health & Safety requirements ensuring the safety and wellness of your staff.
Who Are Our Voice Training Workshops Designed For?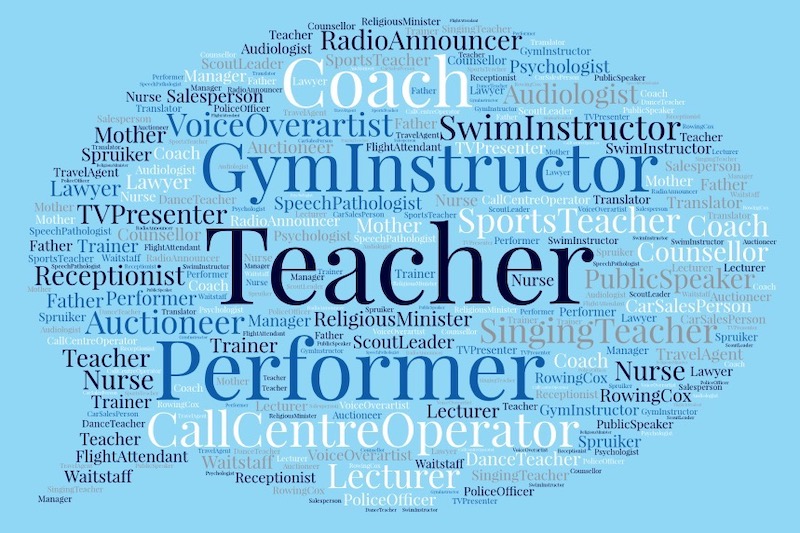 Word image powered by WordArt.com
Employees that would benefit from such training include:
teachers
gym instructors
call centre operators
performers
sporting coaches
salesperson
broadcasters
lawyers
tour guides
Contact Jenny To Provide Voice Health and Safety Training For Your Workplace
Educate your employees and provide a screening survey 
Voice Training Workshops Structure
The workshops are delivered over three sessions, starting with a general overview of the voice and strategies to protect the voice, and continuing on to more specific training for those who may be at risk of damaging their voice or those who want to optimise their voice.  Individual voice coaching can be arranged for staff members who need assistance implementing the skills learnt in the workshop to their workplace. In an educational setting, the workshops can be counted towards professional hours and are an ideal part of the induction training for new teachers. Few have received any voice training. Our goal is to educate staff about the best voice techniques and how to implement them in their daily activities.
1. General Information Session: 1 hour
Introductory information is presented to the group to explain the basic anatomy and function of the voice.  This session highlights the causes and symptoms of voice disorders. A few general strategies and behaviours are practised to promote a healthy voice.  This session is tailored to reflect your group (e.g. teachers, gym instructors, performers)
This session can be combined with a Staff Screening process to identify people with 'at risk' features of a voice disorder.
2. Beginners Workshop: 5 hours
During this session, participants develop a greater understanding of the voice and several in-depth, practical strategies and behaviours to promote a healthy voice are taught and rehearsed.
3. Advanced Workshop: 5 hours
For professional voice users who have attended the Beginners Workshop and want to maximise the use of their voice using advanced voice training techniques.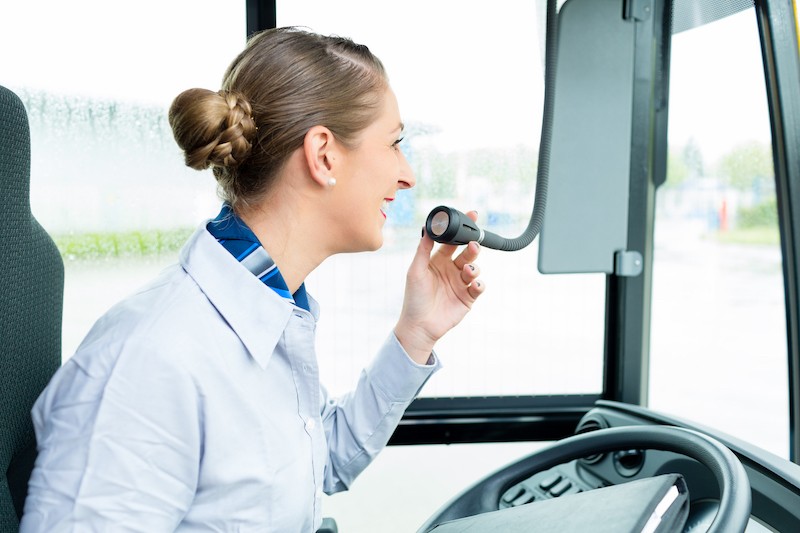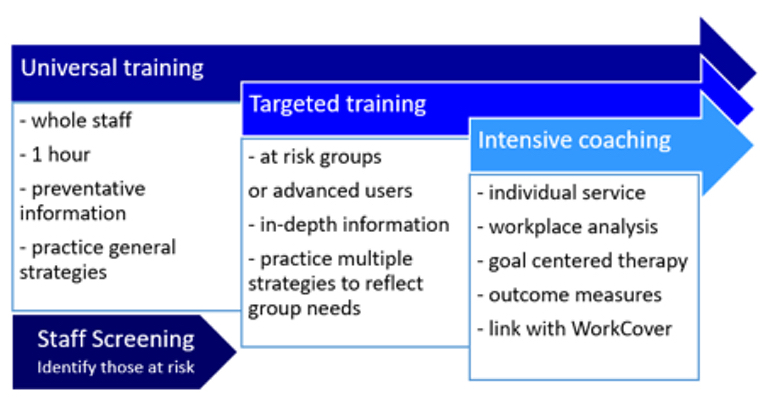 Voice Care For Teachers
In addition to our voice training workshops we recommend the Voice Care For Teachers program.  This program has been specifically designed to provide helpful information for teachers to prevent and manage voice problems.  The pack contains a DVD (100 minutess) and booklet specifically written for teachers.
Voice training is essential to educate people on how to use their voice well in a way that will minimise the risk of potential damage, educate voice users about the signs to look for that would indicate the voice may be experiencing damage and provide options for people who have experienced vocal damage as they journey to recovery. 
Bayside Voice Centre is located in Brisbane's eastern suburb of Cleveland.  We are happy to travel to your workplace to conduct the voice training workshop.  Please contact us for further information.
Avoid Preventable Voice Problems
Contact Jenny Matthews Today